Baltic-Adriatic Rail Freight Corridor's Reserve Capacity 2022 published!
Baltic-Adriatic RFC is glad to announce on October 11th its Reserve Capacity for 2022 was successufully published in
Baltic-Adriatic Rail Freight Corridor Railway Undertakings and Terminals Advisory Groups 2021 - SAVE THE DATE
We are glad to announce that the this year's RAG-TAG meeting will take place, on-line, on November 10th , from
Baltic-Adriatic Capacity Study: Executive Summary now available on line
In 2020, Baltic-Adriatic RFC launched a large its Capacity Study,  co-funded by the European Union under the Program Support Action
Moving goods between two seas
Welcome to the Baltic-Adriatic Rail Freight Corridor Website
If you are an applicant or a partner in the railway industry, this is the place where you can find all the information you need to access our offer or to cooperate with us.
Who are we?
The Rail Freight Corridor Baltic-Adriatic was established in 2015 as implementation of the Regulation (EU) No 913/2010 on a competitive network for rail freight (onwards "EU Regulation"). The aim of the EU Regulation is to enhance the competiveness of the rail freight transport in order to improve the market share of rail over road. As all RFCs, Corridor Baltic-Adriatic has three main areas of competence:
Market definition and analysis, in particular the carrying out of studies aimed at a better knowledge of the market and the definition of the most suitable products to be offered.
Capacity Management, construction of international rail freight capacity. In addition, the Corridor Baltic-Adriatic contributes to the coordination of temporary capacity restrictions due to infrastructure works.
Traffic and Performance Management, Corridor Baltic-Adriatic monitors the punctuality of the freight trains crossing the corridor, with the aim of improving it and to identify operational bottlenecks to be solved, in order to allow a smoother operation of trains across borders.
Baltic Adriatic RFC runs through six states of Europe, namely Poland, Czech Republic, Slovakia, Austria, Slovenia and Italy and its members are the respective railway infrastructure managers.
Baltic – Adriatic RFC includes 5.200 km of railway lines which connect two seas. At the north of Europe Baltic sea and Adriatic sea at the south of Europe.
For details, please navigate our website.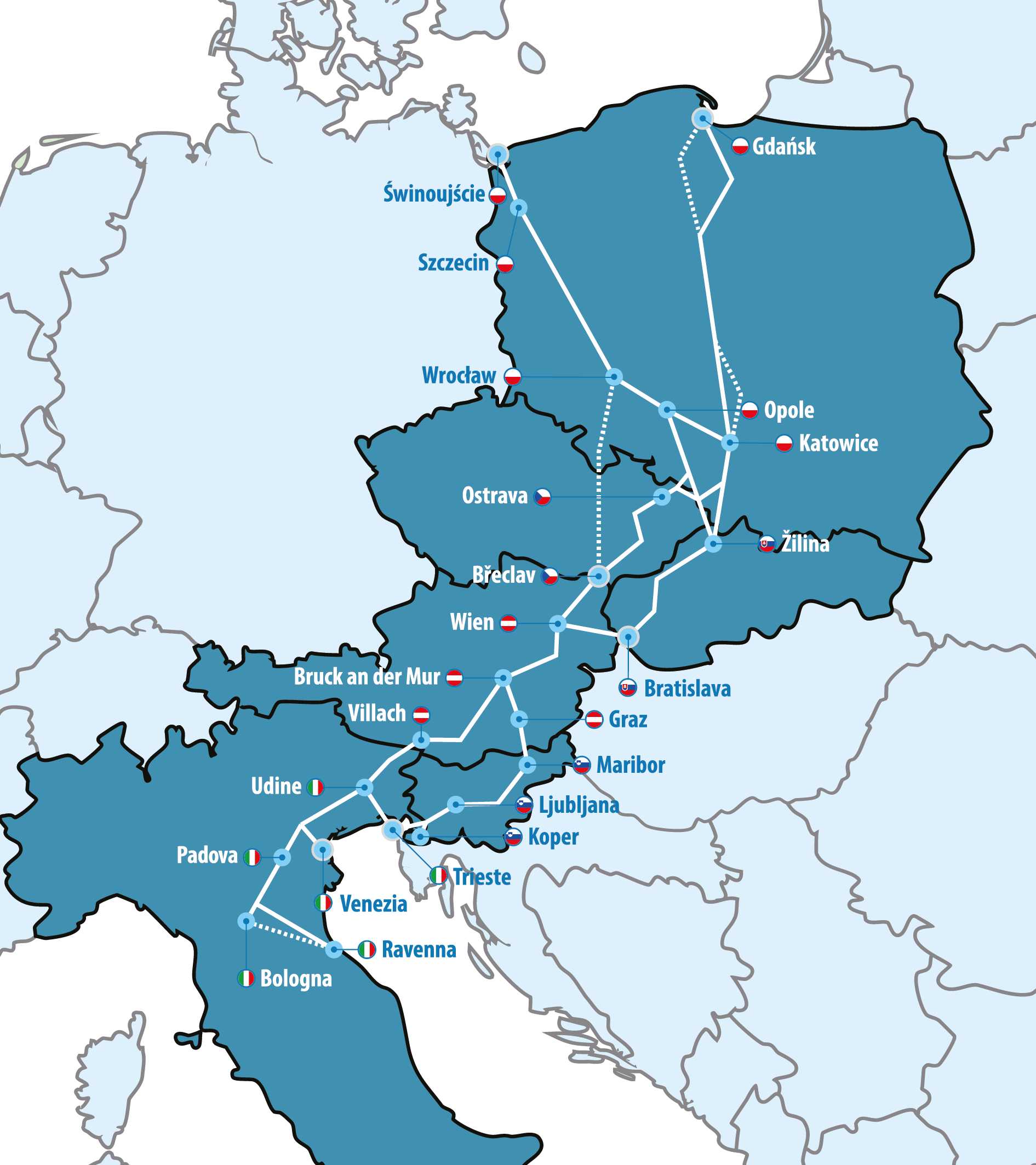 Events & News
Focus Topics